CSR Overview
As a responsible corporate citizen, Edra is committed in playing its role as a global community by contributing positively towards the social and economic development, supporting worthy causes that help build a better, sustainable way of life for society. Being one of the largest IPP player in Malaysia and one of the major regional IPP player in Asia, it is important for Edra to continue to bring about a positive transformation in the communities in which it lives and operates.
The company's corporate social responsibility strategy is based on three cornerstones, also known as the 3Cs:
The Capital – integrates framework for community investment programmes at community level
Our Commitments – provides both short and long-term solutions and financial resources
Continuity – deliver effective and sustainable programmes that brings about a positive impact
Edra approaches its CSR programmes and contributions holistically whereby we strive to reach out to those in need of assistance and help them build better lives for themselves and their families, which in turn will help develop better standards of living within their communities and with a developed community, this will in turn help build a nation with strong economic and social development growth.
Most importantly, Edra's CSR initiatives are not limited towards providing support to the communities within the vicinity of its power plants but we go beyond to play an active and major role in the social and economic development of the respective states and countries where we operate.
Our Goals
Edra's CSR initiatives and what it does to elevate the standard of living for the communities in Malaysia, Bangladesh and Egypt is a testament of the company's commitment towards bringing positive changes towards the beneficiaries of the programmes which can be summarised in the diagram below.
In addition, Edra's CSR and donations activities are aligned with the national vision and long term development plans of the countries where we operate in.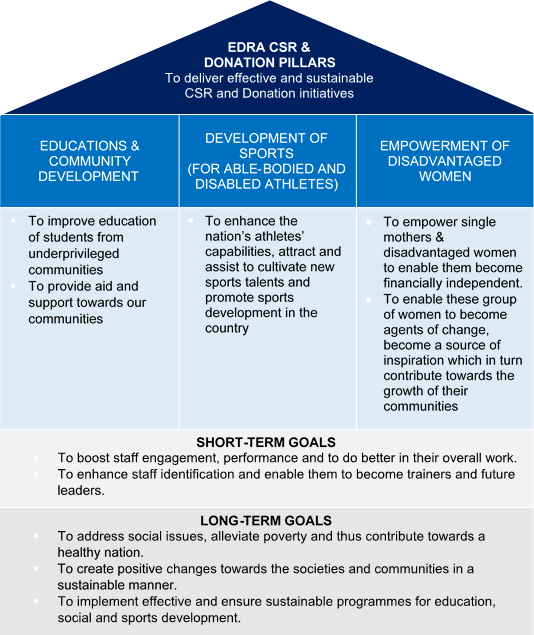 Through our CSR programmes whether in sports, community development, education and social welfare, we have been able to foster strong relationships with stakeholders which comprise of the State Governments, regulatory bodies, local councils, schools, non-governmental organisations (NGO) as well as other deserving entities by supporting a wide range of efforts which are categorised under the following sectors:
No.
Sectors
 
1.
Education and Community Development

To provide aid and support towards the development of communities where Edra operates.
To help improve the level of education by working with schools, encouraging students' achievement and assist to develop better standards of living.
To assist to build and encourage knowledgeable, highly skilled and competitive human capital.

2.
Development of Sports

To assist the nation by playing an important role in the development of sports for the country by partnering with the Ministry of Sports and other sports associations.
To enhance athletes' capabilities individually and/or as a team to produce world-class athletes among able and disabled athletes.
To assist to develop new sports talents at schools whereby young athletes are able to be trained and developed as professional athletes. By doing so, Edra will not only play an important role in developing new sports talents for the country but assist to promote sports development for the nation.

3.
Empowerment of Disadvantaged Communities

To empower single mothers and disadvantaged women through joint-collaborative efforts with local Non-Governmental Organizations (NGOs).
To enable underprivileged women who are the backbones of families to become financially independent by supporting and providing a platform for these group of women to continuously learn skills which will help them to support their families and resolve financial security issues.
When these group of women become financially independent, they become a source of inspiration among their communities whereby they will be able to help build a more resilient community which in turn will help in the economic development of the nation.